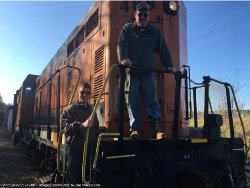 Welcome to the RRPictureArchives.NET contributor site of Joe Marascalco.

Hello,

My name is Joe Marascalco and I am originally from Grenada, MS. I grew up in Grenada during the ICG/IC/CN years in the 80's, 90's and early 2000's. I now work for CN in Memphis, TN as a locomotive engineer. I have uploaded a lot of pictures I took while growing up of trains on the Grenada District back when it was still run as a main line.

The territory I have worked on since I have been with CN is mainly between Fulton, KY and Jackson, MS. Over the years, I have worked with many old heads that worked not only the current CN main line, but also a lot of the former parallel IC and GM&O main lines in western Tennessee and the northern half of Mississippi. Working with these guys and learning about railroad operations in these areas over the years has inspired me to collect old photos of these rail lines that I have uploaded to this site. I have also took a few of my own pictures of these areas over the years of both abandoned rail lines and of current operations.

All of my pictures are categorized as to what former IC, GM&O, or ICG operating district or division that each picture is located in. I have tried to include a lot of past and current operating information with each picture to make for more interesting albums.



You may browse my collection of pictures via the menu located on the left hand side of the page. I hope you enjoy the collection and thanks for stopping by!
Note: This site is best viewed in Internet Explorer 6.0 or above.
Select one of the links from the menu on the left to begin browsing the collection.